✧
S H I P P I N G W O R L D W I D E
✧

My fine jewelry pieces are created with the utmost care and attention to detail. Each piece is unique and made to last a lifetime. Discover my collection of jewelry in various styles. All of my pieces can be crafted in silver & gold and customized to your liking. If you have any special requests or questions, don't hesitate to let me know!
Do you love your car so much that you wish you could carry it with you everywhere you go?
With my handmade car rings and accessories, now you can! Wear the unmistakable design of your favorite brand right on your finger
and show the world which car has captured your heart. I can create the back or front of your car as a ring, pendant or accessory, all uniquely tailored to you.
Whether it's a sports car, a vintage or classic car, nearly every model is possible.
JEWELRY FOR V8 ENGINE LOVERS
This jewelry series offers a wide range of unique pieces all centered around the theme of V8 engines, automobiles, and the lifestyle that comes with it. It's perfect to show off their love for cars in a stylish way.

Do you love the unmistakable sound of Harley engines and want to wear this lifestyle on your finger?
Then discover my handcrafted Harley Davidson engine rings, designed with love for every detail.
Each ring is unique and perfectly reflects the legendary motorcycle brand.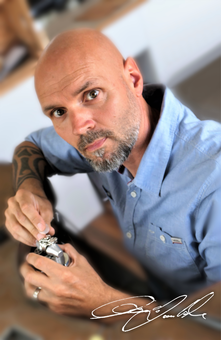 Goldsmith Engraver &
J
ewelry Designer
For over 20 years, my studio in Black Forest - Germany has been creating a diverse range of jewelry and unique creations.
In addition to the standard duties of a goldsmith, I offer services such as gemstone setting, engraving, and expertise in jewelry design.
My extensive experience as an engraver also plays a role in the creation of jewelry, particularly in mold design and fabrication.
This includes modeling and engraving various shapes, models, and surface structures.
Combining various manufacturing techniques and expertise allows me to take joy in designing
unique pieces of jewelry and bringing extraordinary ideas to life.
for custom designs or general enquiries please contact me below
W E B S I T E B Y G U I D O L A U T S C H 2 0 0 2 - 2 0 2 3